WE'RE HAPPY TO WELCOME DELLA MAE BACK TO STRAWBERRY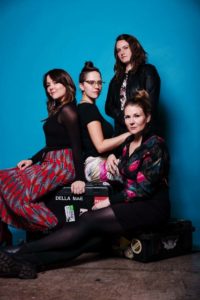 Since forming in Boston in 2009, Nashville-based string band Della Mae has established a reputation as a charismatic live act comprised of some of the finest players in bluegrass, Americana and beyond. Versatile instrumentalists and vocalists, they draw from a bottomless well of roots influences to create vibrant original music. They were IBMA's Emerging Artists of the Year in 2013, GRAMMY Nominees in 2014 for their debut album on Rounder Records, named among Rolling Stone's "10 bands to watch for in 2015," and have since traveled with the US State Department to over 18 countries spreading peace and understanding through music. They'll be returning to Strawberry on the heels of the upcoming release of their brand new ep, "The Butcher Shoppe", on March 1st, available for pre-order now on their website. We can't wait to hear Della Mae's new album and then see them perform live at the Spring 2019 Strawberry Music Festival, on Sunday, May 26th, at the Nevada Fairgrounds, in Grass Valley, CA!
Camping tickets are on sale now (discounted through 1/16) to see Della Mae, in a beautiful outdoor setting, at one of the world's most family friendly music festivals. To buy tickets, or for more information, visit the Strawberry website 24/7 or call the Strawberry office M-F, 9-5 at (209) 984-8630.
We hope to see you there!