The Strawberry Music Festival belongs to all of us equally and it is our combined responsibility to make others feel welcome, encourage respect and consideration, and work together to keep Strawberry "the BEST Festival Ever!"
Camping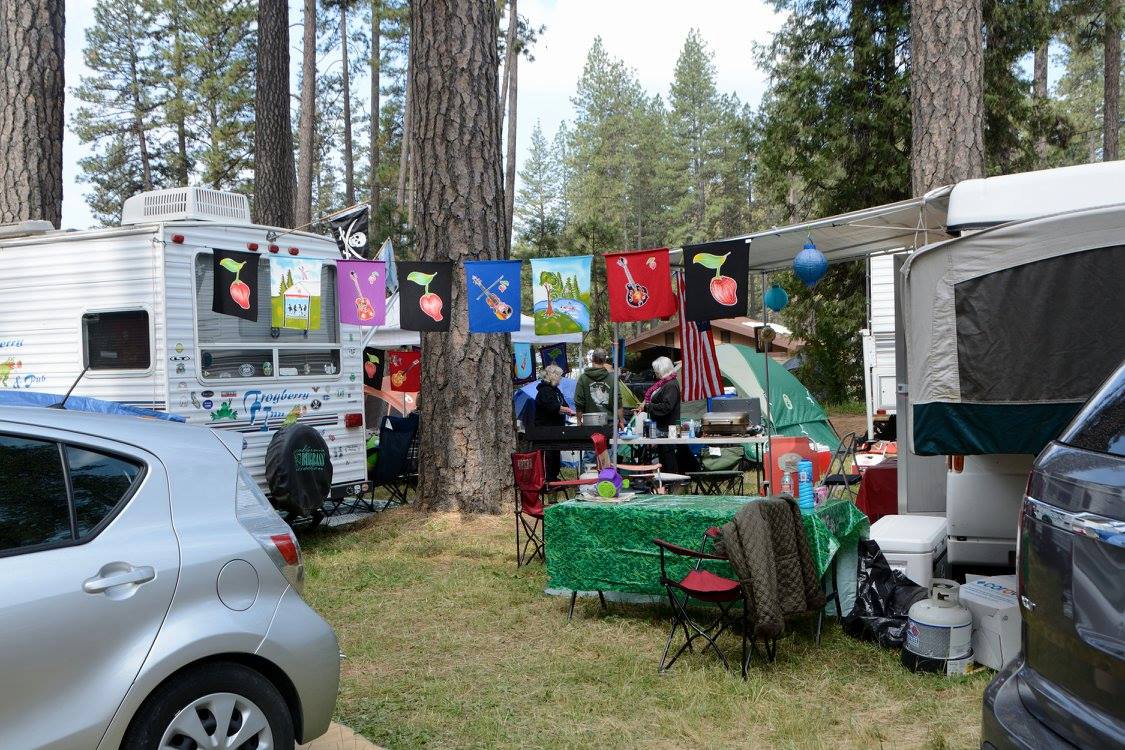 Camping is first come, first served; however, if you have a camping ticket, there will be space for you when you arrive. Feel free to take the amount of space that is needed for your group, not more or less. Where your camp ends another will begin, so please be considerate of your neighbors. Saving space with ropes or tarps is not allowed. You can drive to and keep your cars with most campsites, but we suggest that you move extra cars to the parking lot to make more space for yourself and other campers to enjoy. Staff is available to help you find your campsite should you need assistance.
Please note that rude and offensive behavior will not be tolerated in any area.  If you witness disruptive or discourteous conduct at the festival, please report to Safety Staff at the Command Post ASAP.  We can all work together to encourage kindness and consideration – it's The Strawberry Way!
… at the Spring Festival
The Nevada County Fairgrounds offers forest and meadow camping with lots of nice scenery to explore. Camping areas are easy to get around and convenient to festival programming. Springtime in Grass Valley is generally cooler and wet weather is always a possibility. Please be advised that bringing your own shade canopy, tarps, and ground cover may make your camp experience that much more comfortable. Hot showers, permanent restroom facilities, additional portable toilets, hand washing stations, and access to potable water are all provided.
… at the Fall Festival
Westside offers an untamed, expanse of oak woodland for you to camp in and explore. A majority of the camping is in tree-lined open spaces, with easy access to festival programming. Both festival and Tuolumne Economic Development Authority crews are working to develop nice, new sites further into the interior of the property, offering lots more opportunity for shade. Please be advised that bringing your own shade canopy, tarps, and ground cover will make your camp experience that much more comfortable. Hot showers, at least one permanent restroom facility, clean portable toilets throughout camp, hand washing stations, and access to potable water are all provided with you camping ticket.

Stroll Guidelines
What's the Strawberry Stroll you ask? It's that special time in the morning when you can line up to place your chairs & blankets in Music Meadow. Here are some guidelines for the stroll …
The Stroll line forms under the shade tent on the Music Meadow at 2:00 pm on Thursday and at 7:00 am on Friday, Saturday, and Sunday mornings.  The Music Meadow opens of seating at 3:00 pm on Thursday and at 8:00 am on Friday, Saturday, and Sunday mornings.  Staff will be available to assist you during the Stroll.
You must be personally present in line. Please do not leave your chairs unattended.
You may bring a maximum of FOUR chairs. No blankets or high back chairs are allowed in the Stroll Seating area.
Stroll Seating is first come, first served. Please do not disturb someone else's chair.
All chairs in the Stroll Seating Area must be no more than 32″ from the top of the chair to the ground and must be 10″ or less from the back of the seat to the ground. No chaise lounges or hook back chairs.
Any chair that is not occupied is open for use by anyone until the owner arrives. If you do not want your chair used, please take it with you when you leave the seating area.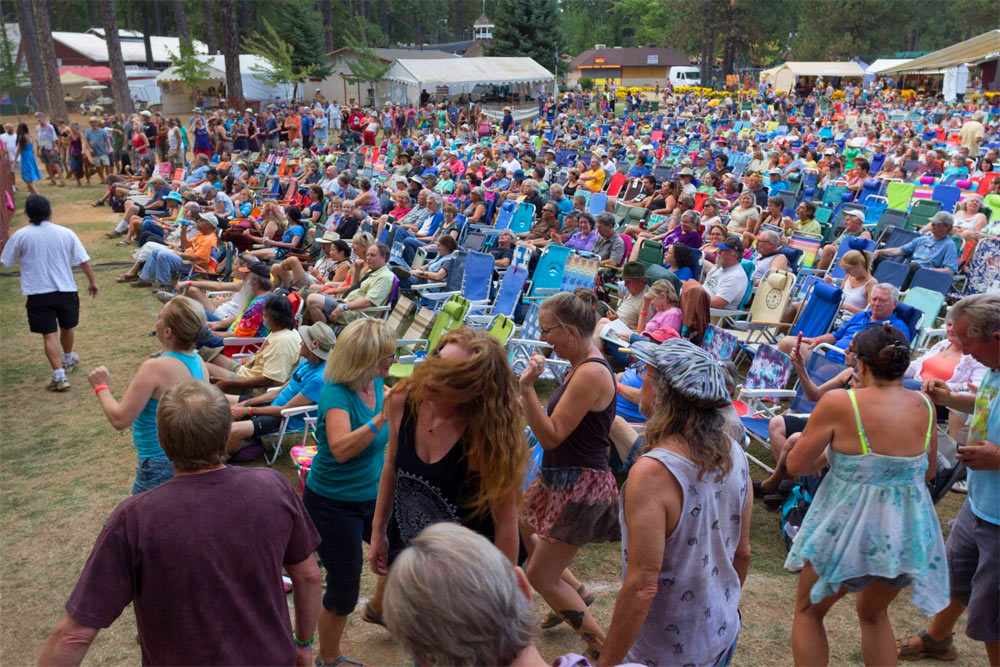 What to Pack
Your TICKETS
Tent
Shade canopy
Ground cover
Mattress/sleeping pad
Bedding or sleeping bag & pillow
Flashlight
Camp Stove
Camp lantern
Camp table
Camp chairs
Tarp
Shade canopy
Water jugs/wagon (for carrying water back to camp)
Spray bottle (great for keeping cool on warm days)
Clothing for warm days and cool nights
Sunhat
Sunscreen
Water bottle/mug, plate & utensils (for re-use in camp and at the Food Court)
Portable FM Radio (for listening to Hog Ranch Radio in camp)
Rain gear (Just in case)
Soap and Towel
Ear Plugs
Cup or container for drinks (no glass is allowed on the Music Meadow)
Wagon (very handy for hauling gear around and sleeping kids back from the Music Meadow)
Musical instruments (for jamming with friends and neighbors)
Merchandise and Services
There is a wide range of merchandise and services available at the festival including:
The Food Court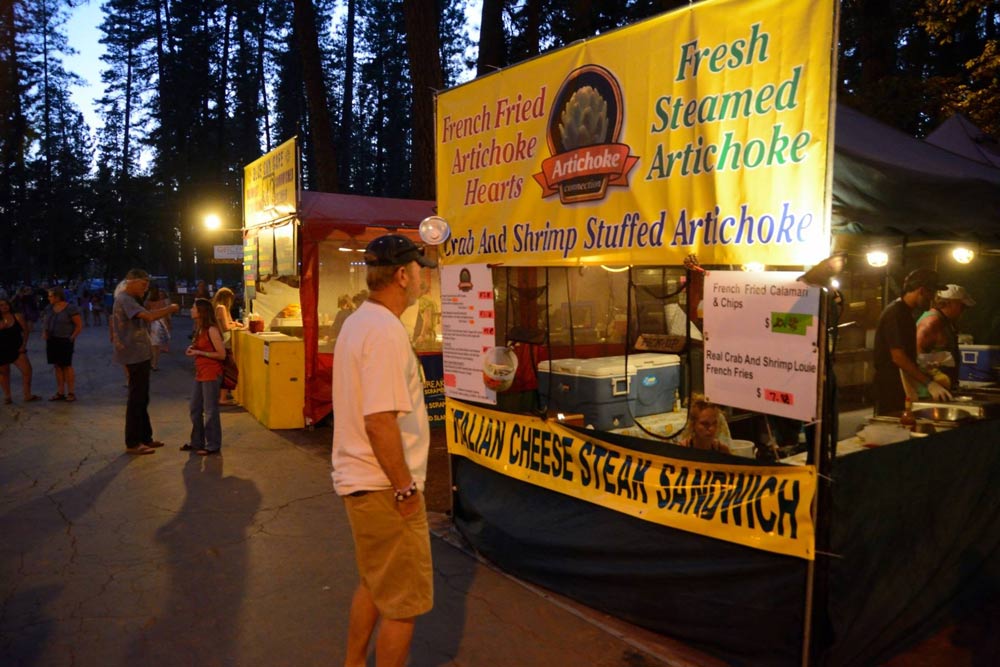 The Food Court features a delectable variety of ethnic and traditional foods. Among the cuisine you will find in the Food Court are pizza & salad, vegetarian dishes, Mexican food, Greek food, Thai food, Cajun food, BBQ, desserts, and more! Also available are an assortment of hot & cold beverages, including coffee & espresso drinks, smoothies, and juices. Check individual booths for special dinner menus each evening from 5:30 pm -7:30 pm.
Strawberry T-Shirt Booth
Each festival showcases a unique Strawberry T-Shirt design. Come visit the booth to see one of a kind festival artwork, on a variety of styles and colors of clothing. The T-Shirt Booth opens at 4:00 pm on Thursday, so stop by early to ensure the availability of colors and sizes.
Strawberry CD Booth
If you like what you see at Strawberry, take it home with you! The CD Booth sells releases from an assortment of performers, including most Main Stage acts. In addition, some Main Stage musicians will visit the booth following their show to sell merchandise and sign CDs.
Strawberry Preserves
You just never know what you will find at the Strawberry Preserves. Created to feature classic past festival t-shirts, the Preserves has evolved into a festival-needs marketplace. If you need it, it is likely the Preserves will have it, stocking everything from toys, jewelry, sundries, and much more.
Strawberry Way Cafe
Where do you go when you are thirsty? The Strawberry Way Cafe serves water, assorted juices, soda, lemonade, and ICE.
Strawberry Artisans
The Strawberry Artisans features some of the finest crafts and artwork throughout the west. Hand-crafted jewelry, fiber arts, glassware, photography, pottery, and many modes of wearable art are just some of what is represented at the Strawberry Artisans.
Strawberry Massage & Acupressure Therapists
What vacation is complete without massage/acupressure? Treat yourself to this relaxing therapy while listening to Main Stage music in the background.
Strawberry Face Painter
Fun for children and adults, the Face Painter at Strawberry has a design for everyone! Always a hit with the kids, it's just not a festival without face painting!
The Luthiers
Rick Turner and Matt Bohn are our resident luthiers. They are equipped to help you with just about any kind of set-up or repair issue(s) you may have with your instrument. Rick is a wizard with all fretted instruments and Matt is a master luthier in all violin family instruments and their bows. Please pre-contact Rick or Matt for special request.
Music Caravan
Forgot to bring extra strings or lost your only pick? The Music Caravan has got everything you need from sheet music to beautiful new instruments.

Jamming
The musical experience is in no way limited to the stages. Musicians of varying levels get together to "jam" at camps all around the festival. These range from informal gatherings of friends and neighbors to performances by professional musicians. The public is generally welcome to come and listen to such jams as long as the audience remains respectful to the musicians and the camp hosting the jam.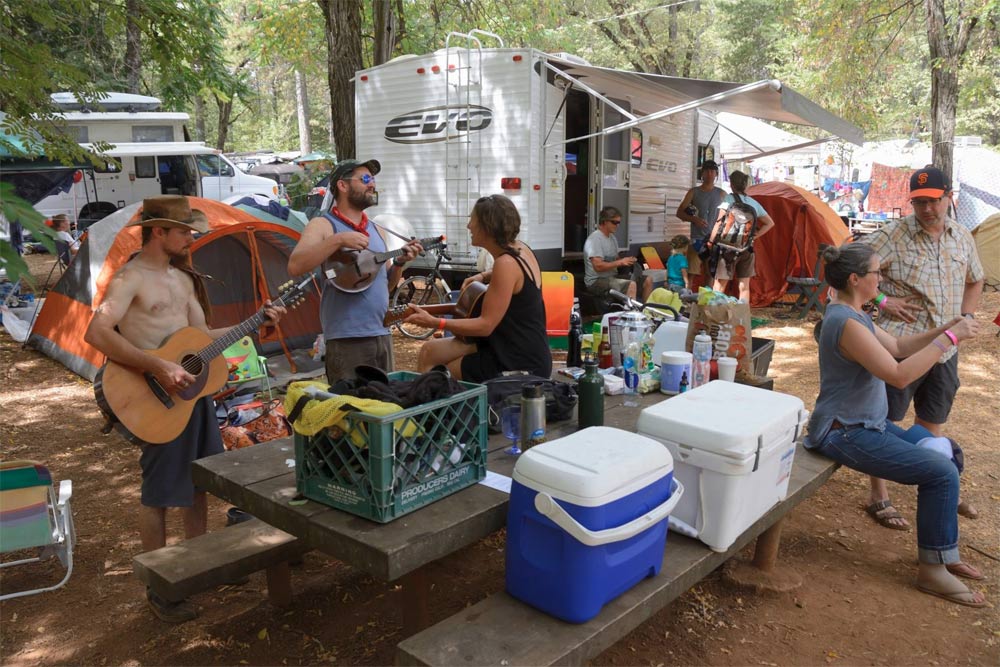 The Strawberry Way
You'll hear the term 'The Strawberry Way' a lot at the festivals. This phrase created by festival goers, describes a vibe and way of living in a community that we hope you will embrace throughout your Strawberry weekend. The spirit of The Strawberry Way is consideration, cooperation, kindness, and generosity. There's not much more we can say, except when you see it, you'll know what it is!

Important Information/Guidelines
Festival Rules
Please keep all access roads clear to traffic. Maximum speed in the camping area is 5 MPH.
Personal campfires and charcoal cooking are NOT ALLOWED. Off the ground camp stoves (propane, white gas, or butane) are OK. Please be aware of fire hazards near your cook space.
Absolutely No Dogs/No pets.  (Qualified service animals are welcome at Strawberry Music Festival.  Please read our complete policy at https://strawberrymusic.com/wp-content/uploads/2018/04/POLICY-AND-PROCEDURE-FOR-SERVICE-ANIMALS.pdf)
No firearms or weapons of any kind.
No solicitation or sales activities without written permission.
No in-camp use of ATV's or off-road motorcycles allowed.
Golf cart use is restricted to staff only.
Quiet generators are allowed to run between the hours of 10:00 am and 2:00 pm daily.
Strawberry staff reserves the right to ask you to turn off your generator if it is causing a disturbance.
Strawberry Music reserves the right to refuse service.
Please put away any alcoholic beverages when your camp is unattended.
Please refrain from using your cell phone where performances of any kind are taking place.
Please observe all signed boundaries and area closures.
Please help keep the festival site clean.
There is no swimming in Lion's Lake or the NIH ditches at the Nevada County Fairgrounds.
Please do not put garbage or debris in the NIH public water system.
Please move camp refuse to garbage/recycle stations regularly.
Smoking is only allowed in designated areas.
On the Music Meadow:
No glass is allowed on the Music Meadow.
No frisbee playing on the Music Meadow.
All personal items, including blankets and chairs, must be removed from the Main Stage seating area at the end of each evening's show.
Smoking is not allowed on the Music Meadow.
Using Cell Phones for anything other than a camera is prohibited in the seating area on the Music Meadow.
Please be considerate of your neighbors and refrain from talking loud or adding your musical talents on the Music Meadow and in performance areas.
Medical & Safety
Medical staff is available to help with basic first aid needs from Thursday through Sunday during the festival. Hours of operation of the Medical Tent are 8:00 AM each morning until 11:00 PM each evening. When the Med Tent is closed, 24-hour emergency assistance is available at the Safety Command Post. In the event of an emergency, there is a hospital nearby at both the Spring and Fall Festivals. In severe cases, EMT's are on site and an ambulance can be dispatched immediately. If you see someone who needs medical assistance at the festival, please go to the Med Tent, the Safety Command Post, or find a Staff person with a radio. Our Safety crews are based at the Safety Command Post 24-hours daily to keep folks safe throughout the festival and can be found throughout the festival grounds wearing Security/Safety vests and hats. If you witness disruptive behavior, suspicious activities, violence or abuse of any kind, or situations that are unsafe, please alert Security staff at the Command Post immediately.

Telephone Access
While we hope that you will choose to unplug at the festival, most cell phones do work at both the Spring and Fall Festivals. Please be considerate of others, as well as performers and turn off your phones in the Stroll Seating area when music is playing on the Main Stage. You may use your camera function, but please disable the flash and distracting lights.

Water Conservation
Both the Nevada County Fairgrounds and Westside have an adequate water supply. Due to extreme drought conditions in California, it is very important to conserve water. Please read the posted signs and observe the 'Strawberry 3 minute shower'.

Recycling
Over the years Strawberry has developed a comprehensive recycling program intended to decrease the amount of trash entering landfills. We continue to evaluate additional options and evolve our recycling program. Please make use of all of the recycling options available and wherever possible keep you mug, plate, and utensils for reuse during the festival. Thank you for your work and for incorporating recycling into your daily routine.