Rock In Road
Rock In Road's own website is currently under development. In the meantime you can scroll down to learn more about what Rock In Road is doing, click here to get involved/volunteer, and/or Like them on Facebook for more news about upcoming projects and events.
---
Rock in Road is a 501(c)3 that was formed in 2015 to focus on projects that benefit the Strawberry community. Rock In Road's mission is to enhance The Strawberry Way at the festival and extend the Strawberry Way into the greater world. To that end, Rock In Road has recently piloted a return of the Breakfast Club to its full glory, is attempting to eliminate plastic waste at the festival drink booth (Strawberry Way Cafe), and has raised tens of thousands of dollars in support of youth music and local band programs through annual fundraisers, such as the Band Stand concert/dinner and the DeLacy Memorial Golf Tournament. Rock In Road welcomes new volunteers and is always looking for new opportunities to fulfill its mission and provide support to our folk traditions and way of life.
---
A Winter Night's Yeow! Tribute in 2022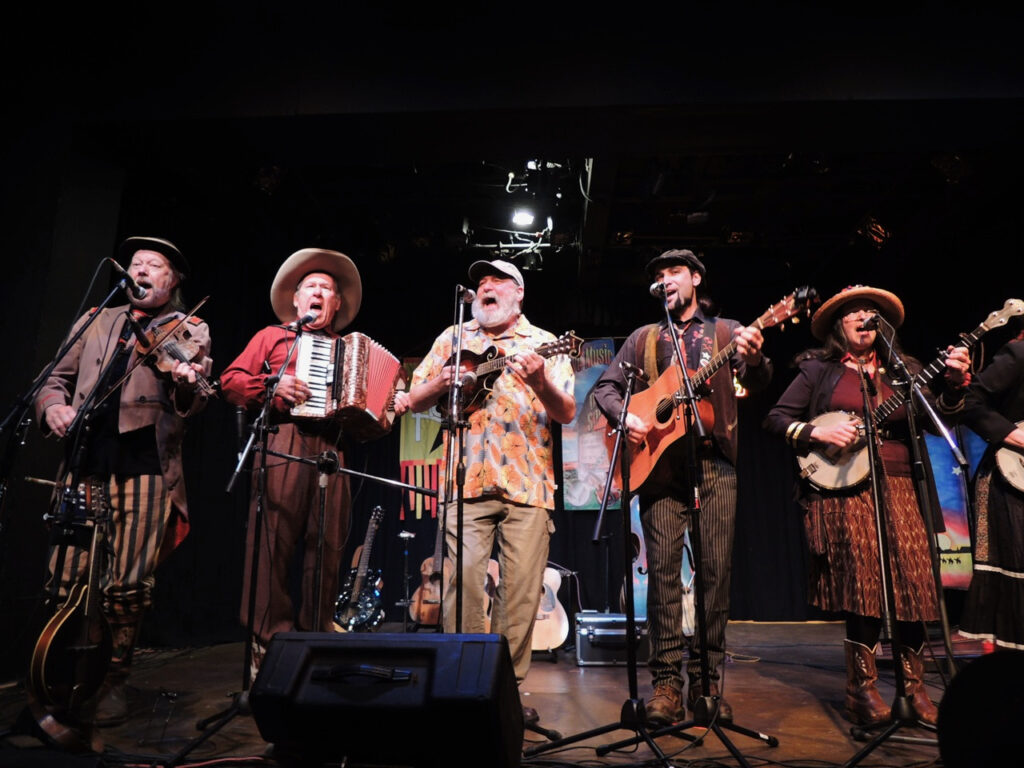 ONE NIGHT ONLY January 29th, 2022
The Fallon House Theater in Columbia State Historic Park
Tickets on sale HERE
A Winter Night's Yeow starring DooDooWah's Dave Cavanagh, What Cheer (Cactus Bob, Prairie Flower & Peg Reza), Sourdough Slim & Robert Armstrong, Old Soles Masha & Geff Crawford, and Honey Run– Kat Baker & Owen Ragland, PLUS Master of Ceremonies, Steve LaVine, in a music and comedy extravaganza, will return to the Fallon House Theatre in Columbia State Historic Park on January 29th, 2022, for One Night Only!
This year's event will be a fundraiser for Tuolumne County school music programs. Bandstand–Standing up for Youth Music*, has been working to provide instruments for school music programs since 2017, and has raised thousands of dollars to purchase two sousaphones, a marimba, 5 flutes, 12 drums, amplifiers, and many other essential supplies to keep the music flowing!
A Winter Night's Yeow began as a one-night stand in 1995 at the Sutter Creek Theatre, and the next year began touring the Mother Lode and Central Valley, performing to packed houses and sellout crowds for over a decade. The show was last performed in 2014, as a tribute to the late Ron DeLacy, a member of Doodoo Wah, and a driving force behind the tour. The songs changed from year to year but the format remains the same- three main bands play short sets throughout the night, sometimes joined by guest musicians, then the whole case gets together for the closing "Yeow!" set.
All seats are $35 in advance, or $40 at the door (if any are left, which seems unlikely).
Covid protocols will require vaccination proof or a negative test within 72 hours, and audience members will wear masks during the duration of the performance.
For questions 209-454-3757 bandstandfundraiser@gmail.com
Follow us on facebook
Ross Mehan has many clips from past Yeow on his youtube channel
Looking for a place to stay in Columbia? Try the City Hotel, Fallon Hotel, or the City Hotel "Cottages" (old town houses). Make it a weekend!
*Band Stand is a committee of Rock in Road Inc, a 501 (c)(3) affiliated with the Strawberry Music Festival
---
HOG RANCH RADIO BROADCAST "KEEP TUNED AND BERRY ON"
Post Broadcast Report
Because of your support, the Hog Ranch Radio broadcast "Keep Tuned and Berry On" was a resounding success! More than 1000 people tuned in over the course of the broadcast and almost 200 listeners requested a free QSL card to commemorate the occasion. Many charitable donations made to Rock In Road have helped to offset the cost of the special Strawberry retrospective. The feedback was so positive and the whole thing seemed to be really well received. This was the first time we have done anything quite like it, so there were definitely a few glitches along the way. We hope that the live, live nature of things added to the magic and that you felt as connected to us, as we did to you. This project was deeply meaningful to all involved and we are so incredibly grateful to have had the opportunity.
---
STRAWBERRY PRESERVE FUND
Many members of this community have asked how they can support Strawberry. Rock In Road is accepting your tax deductible contributions to be used to support the value of all tickets purchased to the canceled Spring 2020 Strawberry Music Festival, and the ticket holder community, in general.
Send your donation to Rock In Road, P.O. Box 1412, Jamestown, CA 95327 or
---
BAND STAND – Standing up for youth music!
Rock In Road has been hosting the annual Band Stand fundraiser, since 2017 and has raised tens of thousands of dollars to support youth music and buy instruments for local school band programs. The Band Stand event is a day of family friendly fun, including music, food, and silent auction, which is usually held in October at the Sheriff's Posse Grounds in Jamestown, CA.
---
DELACY MEMORIAL GOLF TOURNAMENT
In honor of the Doo Doo Wah Open founded by the late, great Ron DeLacy, Rock In Road holds this annual event to raise money for scholarships to be awarded to local music students. This tournament is all about having fun, while raising money for a good cause, so normal rules of play do not apply and in our version of golf, the worst player can easily win the day. Music, dinner, and awards ceremony round out this zaney event that usually takes place in the fall.
---
THE STRAWBERRY WAY CAFE
Rock In Road runs the Strawberry Way Cafe, which is the place to get non-alcoholic beverages, snacks, ice, and information about Rock In Road, at the festival. There's always something fun to do at the Strawberry Way Cafe. Rock In Road plans to help the Strawberry community to eliminate single use plastic at the festival.
---
THE BREAKFAST CLUB
New for 2019, The Breakfast Club has returned to its full glory, at the festival, thanks to Rock In Road. Breakfast is back and so is the sing-for-your-morning-supper tradition, at this popular Hog Ranch Radio broadcast and family friendly open mic, done Strawberry style. Now, and once again, you can hear the sweet sounds of silver ware clanking against plates as festival goers take to the dining hall stage. Sales from the purchase of our delicious and nourishing breakfast fare help to support Rock In Road and its other projects.
---