Rock in Road
Rock In Road's own website is currently under development. In the meantime, you can scroll down to read about Rock In Road's projects, buy tickets to upcoming events, and please also Like them on Facebook.
---
Rock in Road is a 501(c)3 that was formed in 2015 with a general purpose of supporting and preserving folk traditions. Rock in Road's specific mission is to enhance The Strawberry Way (at Strawberry Music Festival) and extend The Strawberry Way into the greater world. The group fulfills its mission to nurture a culture of kindness and cooperation at the festival by sponsoring and serving a delicious breakfast at the Breakfast Club, a popular sing-for-your-breakfast morning open mic and radio broadcast on Friday, Saturday, and Sunday mornings. The rest of the year, Rock in Road has chosen to focus its volunteer efforts on supporting youth music instruction with Columbia Fiddle & Bango Contest, Band Stand concert fundraiser, and DeLacy Memorial Golf Tournament. Attending these events is fun and helps support a great cause!
---
BAND STAND – Standing up for youth music!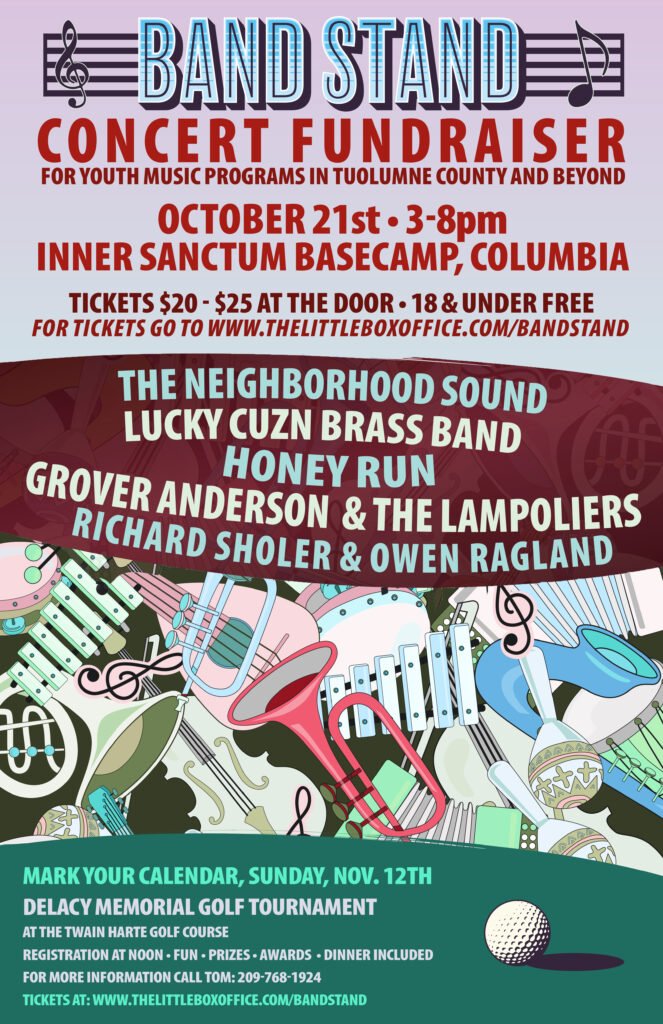 Rock In Road has been hosting the annual Band Stand fundraiser, since 2017 and has raised tens of thousands of dollars to support youth music and buy instruments for local school band programs. This year's Band Stand Concert fundraiser will be 3-8pm at Inner Sanctum Cellars (Basecamp) on Saturday, October 21st. Here's a few photos from our past Band Stand performances and happy students with new instruments.
---
DELACY MEMORIAL GOLF TOURNAMENT
This zaney tourney is held in honor of the classic Doo Doo Wah Open founded by the late, great Ron DeLacy. Rock In Road resurrected this tradition, as it ever was, to raise scholarship money for music students from Sonora and Summerville High Schools.
Normal rules of play do not apply to this tournament, where the main objective is to have fun while raising money for a good cause. After the game, we celebrate the winners and losers with music and dinner during the awards ceremony, where the worst player can easily win the day. The DeLacy Memorial Golf Tournament takes place on Sunday, November 12, 2023, at the Twain Harte Golf Course. Registration will begin soon for just 36 players. A very limited number of our popular Hole Sponsorships will also be available soon to local businesses and individuals for $200. String and mulligans can be bought and the judge can be bribed, but even the worst and best dressed walk away with a prize.
---
THE BREAKFAST CLUB
The Breakfast Club has returned to its fully delicious glory, at Strawberry Music Festival, thanks to Rock In Road. Full and continental breakfast options are back and so is the sing-for-your-morning-supper tradition, during this popular Hog Ranch Radio broadcast and family-friendly open mic, done Strawberry style. Sales from The Breakfast Club help to support all of Rock in Road's work.
---