WEDNESDAY ARRIVAL TICKETS ARE SOLD OUT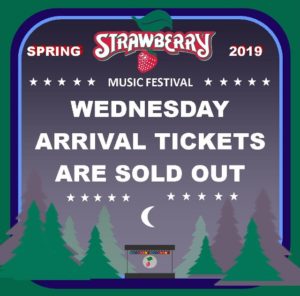 Thanks to everyone who bought Wednesday Arrival tickets to next year's Spring Festival. Both adult 4-Day with Wednesday Arrival, as well as the adult Wednesday Arrival upgrade, are now sold out, earlier than ever before. You can still buy your 2-, 3-, and 4-Day Camping tickets at winter discount prices now through January 16th. Wednesday Arrival tickets for Children and Teens are still available for only $10 more than the Child/Teen 4-Day camping ticket price. The Spring 2019 Festival will be held at the scenic Nevada County Fairgrounds, in Grass Valley, CA on May 23rd – 27th. Strawberry Music Festival is the original in family friendly festival fun and we hope to see you there over Memorial Day weekend!
For more information, or to buy tickets, visit our website or call the Strawberry office M-F, 9-5 at (209) 984-8630.