THE STRAWBERRY "WHAT TO PACK LIST"
Are you packing for #Strawberry
Here's a list of essentials you don't want to forget:
Below is also a printable checklist that may come in handy!
See you soon!
• Physical Tickets!
• Tent
• Shade Canopy
• Ground Cover
• Tarps, Rope, Tapestries
• Flashlight
• Camp Lantern
• Mattress/Sleeping Pad
• Bedding/ Extra Blanket
• Camp Stove (no ground fires or charcoal)
• Camp Table
• Camp Chairs
• Folding Chairs for the Music Meadow
• Water jug/container (For carrying water back to camp)
• Spray Bottle/Misters (great for keeping cool on warm days)
• Clothing for warm days and cool nights
• Swim suit (Tuolumne Pool is awesome!!)
• Sunhat
• Sunscreen
• Plates & Utensils (for Re-Use in camp and at the #FoodCourt)
• Cup or Container for Drinks (No Glass is allowed on the Music Meadow)
• Portable FM Radio (for listening to Hog Ranch Radio)
• Rain Gear (Just in case)
• Soap, Towel & Flip Flops for shower
• Hand Sanitizer
• Ear Plugs/Eye Mask
• Bug Repellent
• Extra Batteries
• Wagon (Very handy for hauling gear around & sleeping kids back from the Music Meadow)
• Musical instruments for #jamming
• Cash for vendors (most take credit cards, but cash is always easier!
🙂
• The Strawberry Way (This is something you should keep packed in your heart *always*)
Click on the list below to download the full reolution printable file.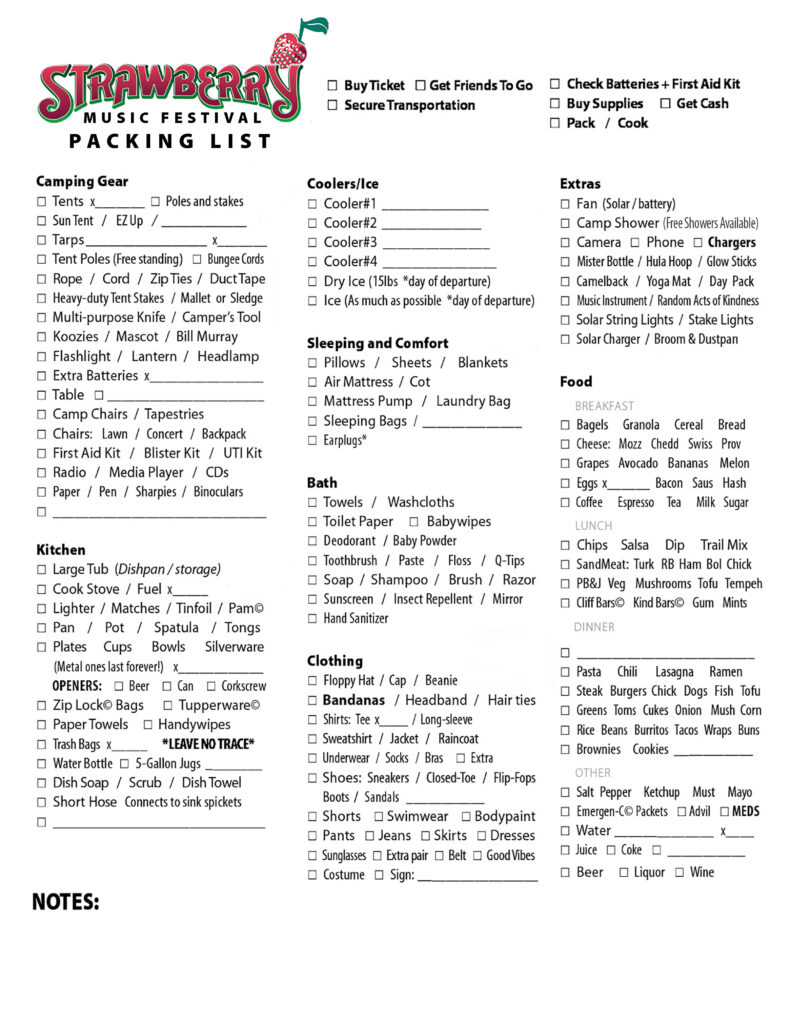 #WhatToPack#CampingGear#StrawberryMusicFestival#StrawberryFall2018#LaborDayWeekend#Tuolumne

🍓
TICKETS, LINE-UP, & INFO via www.strawberrymusic.com