THE LAST DAY TO HAVE FALL BERRY TICKETS MAILED IS…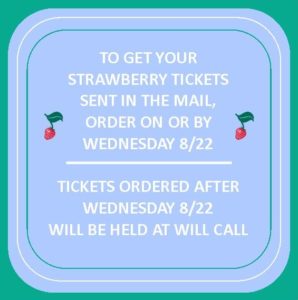 The last day for purchased tickets to Fall Strawberry to be sent in the mail is coming up on Wednesday, August 22nd.  Tickets ordered after Wednesday, August 22nd will be held at Will Call, which is available for pick up, with photo I.D., at the Main Gate 24 hours daily throughout the festival, starting at 8am on Thursday, August 30th.
You can get your tickets online 24 hours daily at advanced prices at https://strawberrymusic.com/product-category/tickets/fall-festival/
…or by calling the office M-F, 9-5 at (209) 984-8630…
or by mailing your check or money order and printable order form to P.O. Box 664, Jamestown, CA 95327. Orders must be received on or by Wednesday, August 22nd in order for tickets to be sent in the mail.
Plan ahead to have your tickets in hand and we'll see you there!