RON ARTIS II TO KICK OFF MAIN STAGE SUNDAY AFTERNOON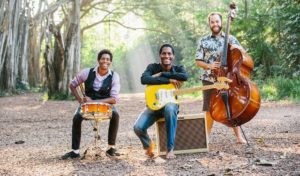 Hailing from Oahu, Hawaii since the age of four, Ron Artis II grew up immersed in a creative and religious household, led by his musically gifted parents. While developing his multi-instrumental prowess playing in the Artis Family Band, Ron quickly took to piano and guitar as his main modes of expression. His mastery of both, led to invitations to play with numerous nationally touring performers, such as Mick Fleetwood, Jack Johnson, and Booker T Jones. Now, Ron Artis II has embarked on three full US tours, playing sell out shows from coast to coast, with his long list of collaborators. His debut full length album, "Soul Street" just dropped in early April 2018 and has already garnered wide critical praise. The record crystallizes the full range of Ron's influences, deep Delta blues and gospel, plus Northern soul and R&B, into a tight collection of fresh yet familiar songs that are at once urgent and timeless. His music only need be heard to understand what a thousand words couldn't say about this individual's ability.
Enjoy this video, one of many great samples available of this artist's work, then visit the Ron Artis II performer profile, on our website, to learn more about him. To buy tickets to see Ron Artis play on Sunday, May 26th, at the Spring 2019 Strawberry Music Festival, or for more information, visit our website or call our office M-F, 9-5 at (209) 984-8630.