REDWOOD RAMBLE ON JULY 12 – 15
TICKETS AVAILABLE – As of this moment there are a number of people selling tickets over at https://www.facebook.com/groups/RambleGatheringPlace/ in case you are still looking for one.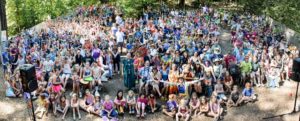 The Redwood Ramble starts this week, on July 12th – 15th, at scenic Camp Navarro.  This is a wonderful opportunity to see live music, in the beautiful outdoors, and for a really great cause!  This year's Redwood Ramble is to benefit Bread & Roses Presents, a nonprofit organization dedicated to uplifting the human spirit by providing free, live, quality entertainment to people who live in institutions or are otherwise isolated from society.  So feel free to ramble on friends!