Quiet Camping Area at Spring Festival
In response to festival feedback, we have decided to designate a Quiet Camping area, as well as define both Quiet and General Camping, for the Spring Festival.
General Camping:  Music and celebration that is respectful of neighbors is expected to take place 24 hours a day throughout the General Camping area.  General Camping applies to all camping outside the Quiet Camping area.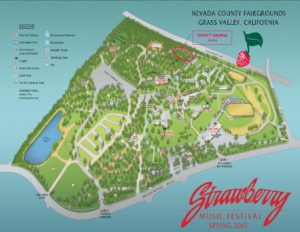 Quiet Camping: From 11pm until 6am daily, music and celebration must end and respect must be given to those who are sleeping. Please enter and exit your camp quietly after 11pm in the Quiet Camping area.
Please note that rude and offensive behavior will not be tolerated in any area.  If you witness disruptive or discourteous conduct at the festival, please report to Safety Staff at the Command Post ASAP.  We can all work together to encourage kindness and consideration – it's The Strawberry Way!