PRE-SEASON SALES STARTS AT 9AM TOMORROW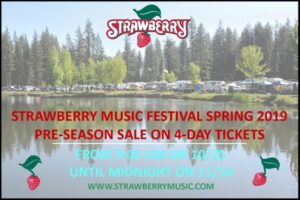 Strawberry's special Pre-Season Sale on full four day tickets is about to begin!
Pre-Season Sale begins at 9:00 am, on Thursday, October 25th and ends at midnight on Friday, November 16th.
The Pre-Season Sale includes both 4-Day, and 4-Day with Wednesday Arrival, for children, teens, and adults. Children 6 and under are free.
Ticket prices and details can be found on the Ticket Information page of our website at https://strawberrymusic.com/tickets/ or by calling the Strawberry office M-F, 9-5 at (209) 984-8630.
Tickets can be purchased online 24/7 at https://strawberrymusic.com/product-category/tickets/spring-festival, by phone M-F, 9-5 at (209) 984-8630, or by sending your check or money order, along with our Check Order Form, to P.O. Box 664, Jamestown, CA 95327.
Information regarding RV hook up sites, for the Spring 2019 Festival, will be available by the end of the October.
The Spring 2019 Strawberry Music Festival will be held May 23rd – 27th at the Nevada County Fairgrounds, in Grass Valley, CA. Catch the berry bug and get your tickets now, at their very lowest price. Both Spring 2019 Ticket holders, and Strawberry Email List subscribers, will be eligible for special promotions throughout the season. Stay tuned for lots more fun news to come, during this special discount period, on now, through November 16th.