CRYING UNCLE BLUEGRASS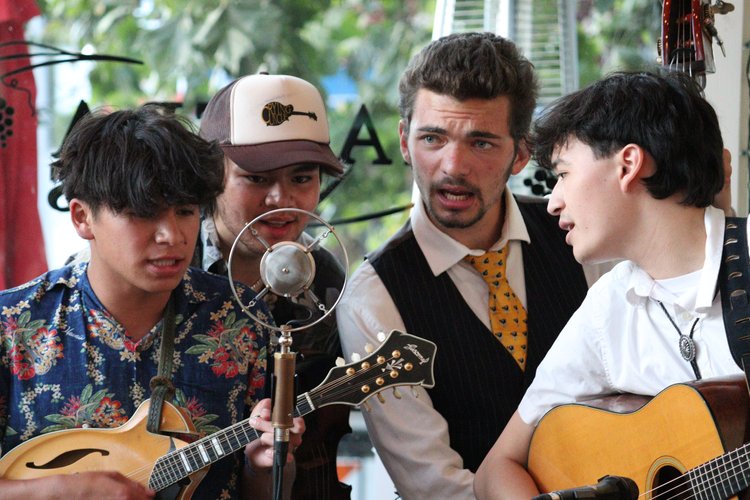 "Go and check out Crying Uncle! We dig what they are doing! The future of music is in good hands here!" - David Grisman

Widely recognized as one of the most exciting young bands in acoustic music, Crying Uncle Bluegrass plays a unique mix of bluegrass, Dawg (David Grisman music), jazz, and modern originals. Brothers Miles and Teo Quale are joined by bassist Andrew Osborn and 2023 National Flat Pick Guitar Champion Ian Ly, all outstanding young musicians of the vibrant California bluegrass scene. Founded in 2016 as a Duo band, Miles and Teo formed the bluegrass band in 2017 and since then, they have continued to make waves in the world of bluegrass and acoustic
music. The bluegrass band was the recipient of the 2023 International Bluegrass Music Association's Momentum Band of the Year award. The band was also honored to perform for their hero, David Grisman's induction into the Bluegrass Hall of Fame.

Based in Northern California, Crying Uncle Bluegrass has opened for prestigious bands, including Marty Stuart and his Fabulous Superlatives and David Grisman Bluegrass Experience. The band has played at venues such as IBMA's World of Bluegrass Festival, CBA's Father's Day Bluegrass Festival, Strawberry Music Festival, SF's Hardly Strictly Bluegrass, Delfest, and Grey Fox Bluegrass Festival. Internationally, the band toured in Japan in 2023 and headlined at Bluegrass in La Roche, France in 2022; in 2019, they toured throughout Finland, culminating at
Kaustinen Folk Music Festival. In 2018, the band was featured on a TEDTalk with Nashville-based singer/songwriter Phoebe Hunt. Miles was also a proud recipient of the Whippoorwill Arts Fellowship in 2022.

The band released their eponymous album, Crying Uncle, in 2018. And in 2020, they released their sophomore album, Monroe Bridge. Monroe Bridge, which features guest artists, fiddler Chad Manning and mandolinist Sharon Gilchrist and produced by banjoist Keith Little. In 2021, the bluegrass band came out with an EP of mostly self-written tunes, Till I Dance Again with You, inspired by a year of "isolating" during the pandemic. Most recently (2022), they released their newest album, The Thing of Dreams, which highlights their originals. Crying Uncle Bluegrass is proud to be a Fishman artist and an Ear Trumpet Labs artist.