FAMILY ACTIVITIES AT SPRING STRAWBERRY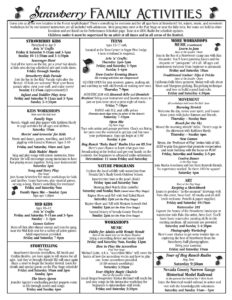 There are a wide array of activities available for kids of all ages at the Strawberry Music Festival. For the past 38 years, these workshops and programs have been at the heart of Strawberry's family friendly festival format. Peruse the program page to see what's being offered this spring. There's something fun for everyone!
Join us at the Strawberry Music Festival – Spring 2019 at the Nevada County Fairgrounds, in Grass Valley, CA. To buy tickets, or for more information, visit our website or call us at (209) 984-8630. Stay tuned because more program pages and fun festival announcements are on their way.
See you there in 15 days!