EATS & DRINKS AT SPRING STRAWBERRY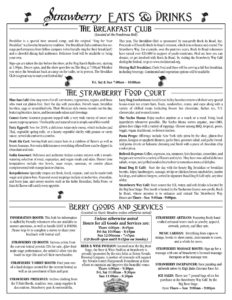 Whether you plan to eat exclusively from the food court, at the upcoming Strawberry Music Festival, or your camp traditions are built around four days of community meal making, we love how food and music brings us together repeatedly throughout the festival. Strawberry's festival famous food court features an ample variety of sweet or savory options for breakfast, lunch and dinner so that you can eat something different and delicious, each and every day. Services such as massage and face painting, combined with shopping opportunities to include Strawberry Artisans, T-Shirts, CDs, and the Music Caravan bring the Music Meadow to life with commerce that is rootsy and real, like the people who attend.
The attached Eats & Drinks page is the tell-all of festival dining and shopping opportunities set to be available at Strawberry's Spring Festival, on May 23 – 27, at the Nevada County Fairgrounds. These services are just part of what make Strawberry more like a family camp with music, than a music festival with family activities. We hope to see you there with the usual amount of kindness in your hearts!
To buy tickets or for more information visit our website or call the Strawberry office M-F, 9-5 at (209) 984-8630.