DEADLINE TO RECEIVE SPRING TICKETS IN THE MAIL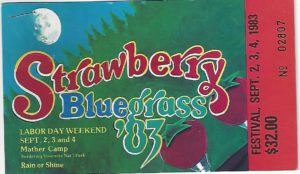 Having your tickets in-hand when you arrive at Strawberry makes your entry quicker and smoother, so that you can get to doing what you came for. The deadline to buy your advanced tickets and have them sent to you in the mail is this coming Thursday, May 16th. Tickets purchased on Friday, May 17th, or later, will be held at Will Call, where tickets are available to pick up 24/7 with photo ID starting at 8:00 am, on Thursday, May 23rd.
Click here to buy tickets online 24/7. Camping, as well as tickets for just one Evening or Day are available now at advanced prices. For more information or to order tickets by phone, call the Strawberry office at (209) 984-8630,
This year's Spring Strawberry Music Festival takes place on May 23 – 27 at the Nevada County Fairgrounds, in Grass Valley, CA.