CREW MEMBER SPOTLIGHT: WILLIAM (BILL) WOLLNER
William (Bill) Wollner, Strawberry's Garbage and Recycling Crew Leader, has a Strawberry origin story that goes back to the early 1980's, when he was paying a call to the home of his friend Mitch Third. Bill and Mitch knew each other from his high school days in Kansas, and had renewed their friendship after moving to California. On that day at Mitch's in the early 80's, some friends, Charlie and Dan, were also there visiting, and talking about starting a bluegrass festival. They asked Bill if he'd be interested, and he said sure! While he couldn't make it to the first festival at Strawberry, CA, he was part of the second, which was the first festival held at Camp Mather. And he's been going ever since.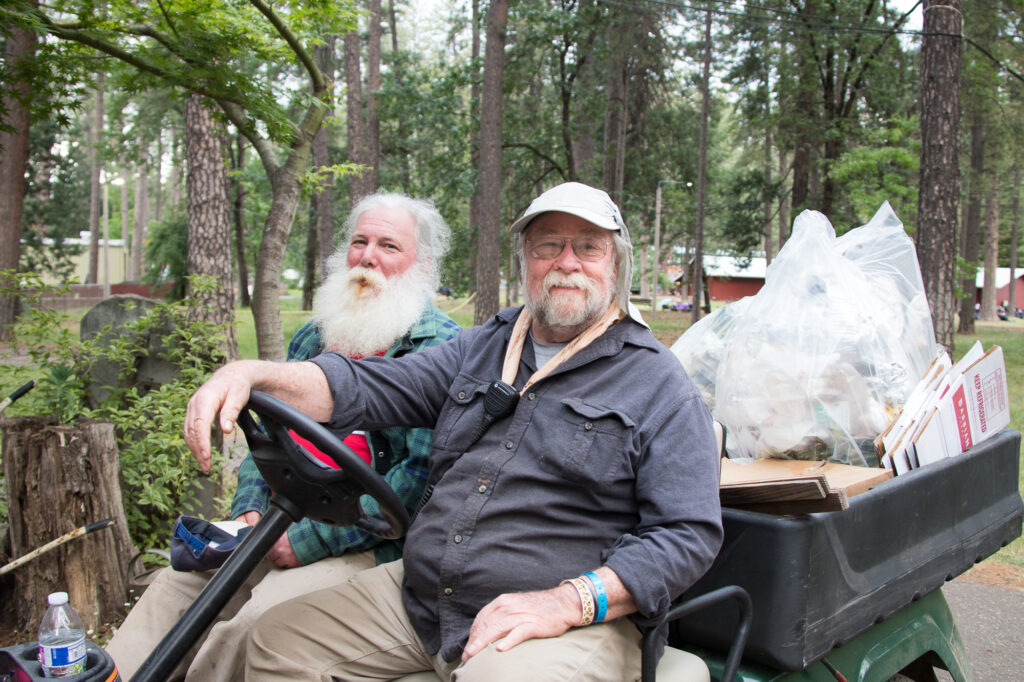 Initially, Bill did a little bit of everything at Strawberry — garbage, bathhouses, brush crew, etc. One year he and his wife cleaned all the bathhouses all by themselves — he the men's, and she, the women's. They were exhausted, and had no time to attend the music or other fun. Bill said "ya'll need a crew for this!" Staff agreed, and Bill was put back in charge of Garbage and Recycling.
Bill spends around 20 hours organizing and preparing before the festival even starts. He's got 24 volunteers on his crew, over half of them have been doing it for at least 10 years, and they keep coming back. It's a tight group. He calls each of them annually to see how they're doing, and many have become very good friends.
One day, Bill and crew member Bob Smith were driving near Rock in Road at Mather, and a gentleman walked up, asking "Can you give my Aunt a ride down to the meadow?" The man's aunt was elderly, and using a walker. Bill answered them yes, they could do so, but she'd be riding in a garbage truck. The woman replied, "I would be honored to ride in your garbage truck down to the meadow." On the ride, she told him that this was the cleanest, best run event/festival she'd been to in her life, and she'd seen a lot. At the meadow, as she started to walk away, she paused and said over her shoulder, "Walt and Roy Disney were my older brothers."
As Bill realized what this woman had seen and lived, and remembered how hard-working Disney crews kept Disneyland so spotless, he felt it was just the finest praise that he and his crew could ever receive. He was stunned and warmed by the memorable compliment. In recalling this, he says, "We always leave the camp cleaner than before. Nothing stays on the ground. It's the Strawberry Way."
When asked to give any other thoughts on the festival, Bill imparts that Strawberry has truly been a special part of his life since the early 80's, and he hopes to keep going as long as he can. He really enjoys the music, and the people he gathers with – crew, staff, attendees – have become like family, with friendship and camaraderie like no other.
We are so grateful for you, Bill! Thank you SO much for your devotion to and nurturing care of Strawberry Music Festival.