A WINTER NIGHT'S YEOW! TRIBUTE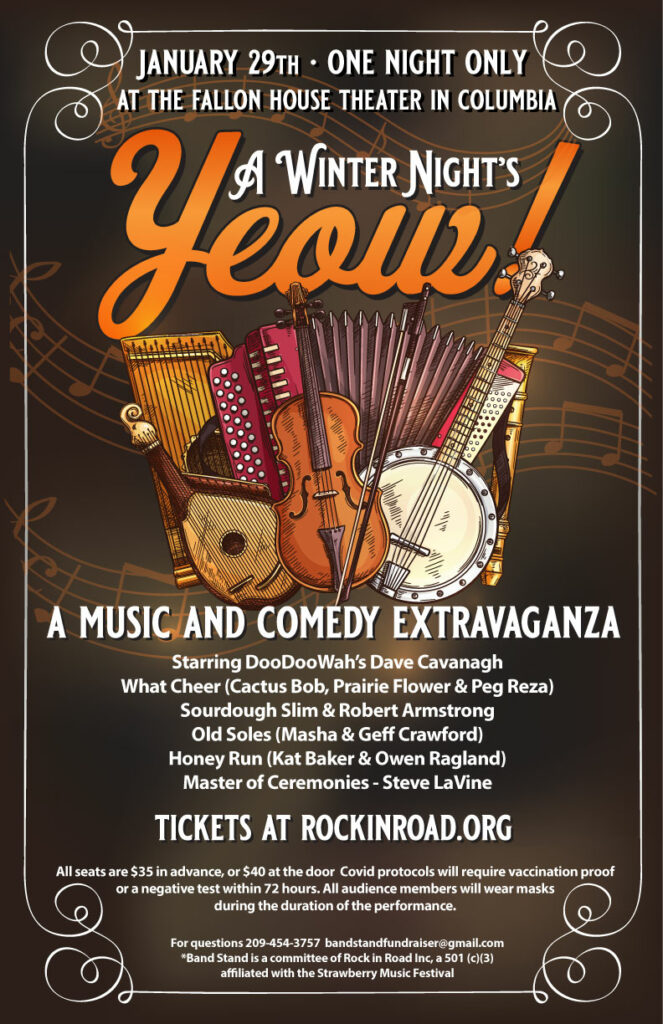 ONE NIGHT ONLY January 29th, 2022
The Fallon House Theater in Columbia State Historic Park
Tickets on sale HERE or Rockinroad.org
A Winter Night's Yeow starring DooDooWah's Dave Cavanagh, What Cheer (Cactus Bob, Prairie Flower & Peg Reza), Sourdough Slim & Robert Armstrong, Old Soles Masha & Geff Crawford, and Honey Run– Kat Baker & Owen Ragland, PLUS Master of Ceremonies, Steve LaVine, in a music and comedy extravaganza, will return to the Fallon House Theatre in Columbia State Historic Park on January 29th, 2022, for One Night Only!
This year's event will be a fundraiser for Tuolumne County school music programs. Bandstand–Standing up for Youth Music*, has been working to provide instruments for school music programs since 2017, and has raised thousands of dollars to purchase two sousaphones, a marimba, 5 flutes, 12 drums, amplifiers, and many other essential supplies to keep the music flowing!
A Winter Night's Yeow began as a one-night stand in 1995 at the Sutter Creek Theatre, and the next year began touring the Mother Lode and Central Valley, performing to packed houses and sellout crowds for over a decade. The show was last performed in 2014, as a tribute to the late Ron DeLacy, a member of Doodoo Wah, and a driving force behind the tour. The songs changed from year to year but the format remains the same- three main bands play short sets throughout the night, sometimes joined by guest musicians, then the whole case gets together for the closing "Yeow!" set.
All seats are $35 in advance, or $40 at the door (if any are left, which seems unlikely).
Covid protocols will require vaccination proof or a negative test within 72 hours, and audience members will wear masks during the duration of the performance.
For questions 209-454-3757 bandstandfundraiser@gmail.com
Follow us on facebook
Ross Mehan has many clips from past Yeow on his youtube channel
Looking for a place to stay in Columbia? Try the City Hotel, Fallon Hotel, or the City Hotel "Cottages" (old town houses)
*Band Stand is a committee of Rock in Road Inc, a 501 (c)(3) affiliated with the Strawberry Music Festival