CRYING UNCLE BLUEGRASS BAND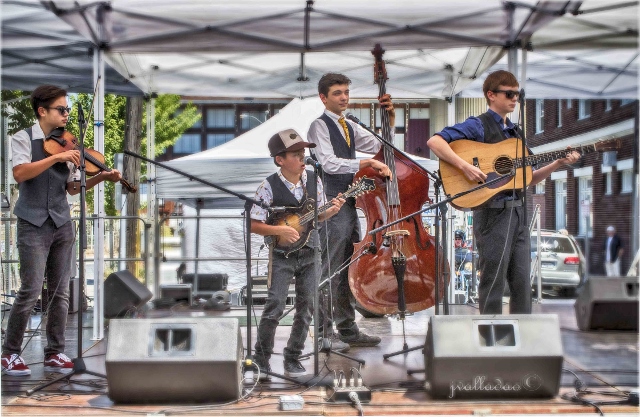 One of the finest young acoustic bands anywhere, Crying Uncle Bluegrass Band (CUBG) plays bluegrass and more with astounding instrumental skill and tight vocal harmonies.

Whether playing straight-up bluegrass or virtuosic Dawg Grisman tunes, CUBG delivers amazing instrumentals and vocal leads and harmonies that catapult the band into an elite sphere of artistry. Winners of the 2018 Pickin' in the Pines Band Contest in Flagstaff AZ, and selected by the International Bluegrass Music Association to perform at IBMA's 2018 World of Bluegrass in North Carolina, CUBG is making waves in the bluegrass community. Brothers Miles and Teo Quale, National and State Champion fiddlers and pickers, are joined by award-winning bassist Andrew Osborn and former CBA Youth Ambassador guitarist John Gooding.

Crying Uncle was founded two years ago by Miles and Teo, as a duo band with invited guest artists. They invited Andrew and John to join Crying Uncle's Bluegrass Band in 2017. The band recently released their first CD, Crying Uncle, which can be found on cdbaby.com, iTunes and other media platforms.
CUBG has opened for prestigious bands such as The Del McCoury Band and David Grisman Bluegrass Experience. The band has played at venues such as IBMA's World of Bluegrass Festival, CBA's Father's Day Bluegrass Festival and the Freight & Salvage in Berkeley, CA. In 2018, CUBG won the competitive 2018 Pickin' in the Pines Festival Band Contest. In 2018, the band was featured on a TEDxTalk with Phoebe Hunt. CUBG is based in Northern California.